NABX 2011 – I Lived My Dream
After Years of Waiting and Wishing…could it Really Happen This Year?
After years of drooling over the NABX event, and watching on the forums and YouTube for videos etc of the event, I thought for me at least this was an event too far out of my reach to attend.
But this year is my 50th Birthday, and for over two years I had been dropping the hint that was what I wanted to do for my half century, for the first 18months or so, my wife was having none of it, she had already followed me to Dubai to go buggying with the Sand Yeti in the Dubai desert, and not really enjoying the experience at all, don't get me wrong, she loved being with our hosts Dave and Brig who could not have made our trip any better, and Dubai itself, but being stuck in the boiling hot desert with no sea in sight was not her cup of tea.
About May of 2010 she said ok then if that's what you want to do, then we'll do it….OMG, is this really going to happen, for seven straight nights, I couldn't sleep properly, NABX was racing through my mind every night laid in bed…..In September 2010 I booked the time off work, and the following October I was laid off, I was deeply disappointed, not because of losing my job, I was kind of getting used to being made redundant over the last two years, but the fact we were booking the flights the weekend I was laid off…I was gutted, and knew I faced possibly months of uncertainty without a job.
For a while, I had to put NABX on the back burner, I had to, and concentrated on finding a job…I found some temp TIG welding work for four weeks to take me up to Christmas, but time was running out…and then it happened, I had got an interview for a local job I had applied for ages ago, 450 people applied and I was into the last 18, after the first interview I was invited for a second interview and a weld test, and then two weeks later it was confirmed I had got the job…just in time for Christmas…brilliant.
I started work on Jan 5th and the first thing I did was put my holidays in for  NABX….accepted, then wait while Denise's holidays were confirmed another two weeks later…NABX was back on again.
I registered on the NABX web site and spent the next 3 nights laid awake thinking about it again….I had kindly been offered a buggy to use by Kent at awindofchange in Vegas, I had played a small part in helping him with the design of the Ivanpah buggy years before, and that was what I was going to use, that was until people started to ask me  what buggy I was bringing, that got me thinking again, could I afford to ship a buggy to Vegas….I started work on a buggy to run on barrows, ideally I would have liked to have taken the 19" ally rims that I have had sat in the garage for since June 2010, but they weigh 27kgs on their own, so a barrow buggy it is…
During this time I was planning on making video tutorials on how to make a buggy, I get emails all the time from all over the globe asking how to do this and how to do that, I thought if I made videos of how I do things it may just help the new buggy builders out there, I knew, if videos like these had been out when I started, it would have saved me a shed load of time and money. So the buggy I am building in those videos is the buggy I am taking to Ivanpah, NABX.
The buggy build was completed at the end of January 2011, 2 months before the event, I had earlier phoned Jon at buggybags.co.uk, and said I wanted a special seat making for this buggy, I told him what colours and layout I wanted plus I wanted a special patch sewn into the seat. Years before, I was planning on sending the Dominator 1 to a New York firefighter, and he kindly sent me some commemorative patches of the disaster at the Twin Towers plus a cross, that he had cut from one of the Twin Tower columns, they are all treasured possessions of mine, but I thought seeing as this will be a one off trip and I had planned on leaving the buggy in America it would be a nice tribute, the buggy would be called the HERO buggy after the fallen heroes of the Twin Towers 10 years ago, the seat would also be made in the USA flag colours.
The seat was finished also at the end of January, I just could not believe it when I saw it, it was in fact the best looking seat I had ever seen, Helen, Jon's wife who made the seat had taken 23 hours to make it and another one for a sister buggy, they were superb.
I made a list of things I had to do at the start of planning
·         Book the time off work, check
·         make a buggy, check
·         order seat side rail covers, side boards & t-shirts, check
·         contact Sieger regarding kites, check
·         register for the event, check
·         organize shipping of gear, check
·         book a hotel near Gatwick for the night before the flight, check
·         book the flight, check
·         order rims and tyres in Vegas (cheaper than taking your own) check
·         book the hotel near Ivanpah dry lake bed(Buffalo Bills), check
·         book a car rental, check
·         book insurance for the event to cover kite buggying, check
·         book hotel in Vegas post event (Bellagio, wife's Birthday treat for me). check
Sponsors~ Sponsors are very important to our sport and we are all grateful that our sport is recognized by different companies and anyone lucky enough to get sponsored has to do their bit to support them in return.
I had contacted my main sponsor Sieger https://www.cooperkite.nl/ (who has been brilliant by the way)  from Cooper Kites who kindly donated a full new set of Cooper Kites to take to the event and to sell there when it had ended.
RuRoc,https://www.ruroc.com/  have supported me even though they have recently one through a major transition period.
James https://www.minidvcam.co.uk/ is my new sponsor keeping me in the frame with a new Action Cam
Jon and Helen https://www.buggybags.co.uk/ continue to support me with my endless requests for "out of the box" products for the buggy
Plus, I have also had a lot of help from https://www.crosswaterjetservices.co.uk/ who help me out with my plate work, Ian, aka Nudge https://nudgecreations.com/, https://northsouthclothing.com/ and Neil https://www.darkskykites.com/ were busy making my side buggy boards and a few t-shirts
I would like to thank each and every one of you for your continued support
I still have much to organize, I had ordered some ally rims and 6, 4ply slicks from Kent at https://www.awindofchange.com/ Kent who runs the shop in Vegas, has been very helpful as usual, and offering me lots of advice and support, plus allowing many buggiers to store their gear there prior to the event.
Feb 8th 2011, Less than 60 days to go, time is slipping away and I still have a few things to organize yet, the most important being shipping the buggy and equipment, the last items I am waiting for is the side boards for the buggy, then box the lot up and get it sent off,  I will send it as soon as I can….that's my major worry, and causing me more sleepless nights, I have sourced a company to do it, but nothing is in writing yet, and I won't rest until it is in Vegas.
I had chance to put the new buggy together, and I am really happy with the feel of it, I won't have time for any testing, but if I can't get a buggy right first time now, I might as well pack up buggy making.
Everything, equipment wise is here and in place now, the side boards arrived and look superb, now time to pack the box for shipping.
As far as worries about shipping my buggy, well, they should never have been, no sooner had I packed the box containing the buggy and 8 kites, I came inside and went online to book it….I kept waiting for the total to rocket, with behind the scenes extras added like fuel, import, vat etc etc tax to be added…..but there was none….big result, I finished the process online with the shipping company at 1.10pm and the guy with his van was outside my house ready to pick the package up at 1.45pm…I was literally amazed….a few days later Kent from awindofchange in Vegas confirmed the package was sat waiting for me in his shop….phewwww, that was a big weight off my mind, I still have quite a lot of gear including the buggy seat, helmet,  protection pads and loads of other accessories to take, but I hope to fit that lot inside a suitcase.
T-35, I thought the days would drag, but they are not, everyone who is going is starting to buzz with excitement, I spend a lot of time chatting to Beamer Bob  from the USA on Skype, an NABX veteran, he has helped me a lot during my preparation, he even booked Buffalo Bills for me, and he was planning on coming off the lake bed just to meet me at the airport so I had someone to follow to Kent's to pick the buggy up then onto Buffalo Bill next to the lake bed, but do to unforeseen circumstances he wont be arriving at NABX now until after I am there. I also spend a lot of time on Power Kite Forum https://www.powerkiteforum.com/  web site, a US based forum, I like going on there because there are so many people there willing to have a go at building their own buggies there, and I love to help out where I can, also within the PKF site is a dedicated section for NABX and a link to the site itselfhttps://www.nabx.net/ , this is where the excitement builds, any questions you want answering or advice, this is the place to head for, it has all your questions and more….it seemed just a few days ago we were saying 60 days to go….
I have started noticing on Forums around the world some of the  new buggies and wheels that are getting ready for this year's speed attempts, this excites me a lot, as these buggies are the Formula 1 of the buggy world, new light weight disc wheels being prepared, huge sponsorship support helping to push the limits of the sport we love, it makes me jealous I am only taking a buggy on barrow wheels, my buggy will look like a child's play thing in comparison, but I still can't wait to use it.
During my buggying hobby which stated in 2003, I have always had three goals….
1 To do 200 miles in one session
2 To get over 60mph
3 To go to NABX
The thought that I could do all three things in one day to me is mind blowing…the sleepless nights continue, hundreds of things run through my brain at night about being there…
What will it really feel like buggy on such a hard surface?
What if I am 20 miles from base camp and I get a puncture?
What if I damage the buggy, which is being sold there?
My mind just goes on and on with different scenarios, I don't think I have ever been more excited about anything more than this trip, this is my dream.
It's now the end of February…..and that's it, everything is in place ordered and booked now….or is it?.
T-18, 18 days before I leave to realize my dream of buggying on the sacred lakebed Ivanpah, and still I am not settled, I have realized all the rest of the gear I need to take WILL NOT fit inside my suitcase, you forget how many bits and pieces you have to take….OMG…panic stations, I will have to send the buggy seat and other bits and pieces in another box….I could really do without this right now…I have already heard of someone else who shipped some gear there and parts have gone missing….ARHHHHHHH what do I do…..leave bits here or take the chance of shipping at this late stage….I am going to have to ship it…talk about sleepless nights lol.
Go For it….I packed box with the seat sideboards and a few other pieces, it is being picked up on the 16th March…two weeks before I arrive there, please if there is a God, make sure this box gets there with no problems, I want the 16th to get here now lol, it's now the weekend, then I have two 12hr shifts before the box is picked up, and then the agonizing wait to hear that it has been delivered.
….for the next 18 days all I can do is wait…..and continue dreaming, I wont actually believe this is going to happen until I am there, standing on the lake bed, with my buggy, kites and everything else I need is right beside me…..please let nothing go wrong.
T-10 days to go, I can hardly contain my excitement about this trip…well? No I can't contain it at all.  Anyone who knows me well can see I am like a 5 year old child waiting for Christmas morning.  Colleagues at work are showing considerable tolerance and not showing their boredom of my constant bombardment of kite jargon and if they had never heard of Ivanpah and NABX they certainly do now.  I am quite impressed with them really at how much of my drivel they are actually taking in, like I will get an out of  blue question like, "do you think Arjen will be going for the record again?" ha ha, it makes me laugh that they have even remembered  a name like that ….even my wife Denise has been stopped in the street and shops with  people asking her (non kitey people)exactly what I am going to, as they keep seeing T-60, T-45, T-15 etc etc on Facebook ha ha,  or according to Denise they can feel the sense of thrill and excitement about this trip through my brief posts in my profile.
Kent from awindofchange in Vegas confirmed my second box had arrived at his shop…..big relief, and only in the last few days leading up to the event I picked up a new Sponsor.  Alex from https://www.globaleyewearstore.co.uk/ who is supplying me with sun shades and goggles to keep the desert dust out of my eyes when I am not in the buggy.  I am very lucky.
With only 10 days now, there is not much left for me to do apart from wait, my suitcase containing the rest of my kiting gear is already packed…well the gear has been in and out like a Yo-Yo, and I am sure I will check it all again before we leave.
T-2
I have now finished work, and time to sort the last few bits and pieces out, charge my camera batteries and pack the case for the final time.  Tomorrow T-1 we will be heading down to a hotel near Gatwick to spend the night there before our long flight to Vegas….This is it…the wait is almost over….disturbed sleep is still hampering me,  which is very annoying.  I just cannot switch my brain out of gear….last night I spent most of it tossing and turning, thinking what I was going to say to people as I meet them at Ivanpah….how mad is that?… why do I do that? It drives me mad.
T-1  Its here, the day we leave for Ivanpah, I can't believe it.  After leaving Lincoln at 12.30 we headed for our hotel at Gatwick airport, not before stopping on the way for a Costa Coffee.  We took a wrong turning at one point which made our journey longer but we eventually arrive at the Hotel at 4.30pm.
Some people have already been at the pre event a week including the Flexi boys and Stephan the world No2 in the speed rankings, has already posted a video of him racing along Harper dry lake bed at 66.49mph.  He certainly looked to be getting a shift on for sure, and Craig Sparks has achieved a remarkable speed of 62.8mph on a Flexi Scout buggy…amazing.  I have also heard through the grapevine the Dutch boys are pushing hard as well and Ozzy had sheared a 20mm axle bolt.   Just shows the forces created by disc wheels, when using normal bigfoots a lot of the energy is absorbed through the higher tyre walls.
T-0 Wednesday 30th March, Well if over the last few months I had sleepless nights, last night in a strange bed in a hotel was no different, for hours I just lay there thinking of every scenario and things that may or may not happen at Ivanpah.  If I have any regrets at this stage it is I wish I had gone sooner.  I will be the last guy to arrive from the UK as far as I know.  All the Flexi team, Kieron and Mark have been there some time now and I am guessing they all would have acclimatized,  got rid of any jet lag, got set up , and most importantly got the feel of the dry lake bed under their wheels.  I on the other hand will not get onto the lakebed until Thursday morning.  I will have such a short window of opportunity for decent winds…3 days, I may be lucky, I may not. I also, once I am set up, have never ridden the Hero Buggy, never flown the new Cooper Kites and never used the new lines and handles, plus I have not been in a buggy since November 2010.  Not the best preparation for sure.  Still it is too late now.  I even tried working my muscles a bit at the works gym, to give my body a fighting chance of surviving 3 solid days buggying and ripped a tendon in my right elbow.  Not good. I had also deliberately missed buggying opportunities at my local beach Mablethorpe for fear of injuring myself so close to NABX.
We got up just after 6:00am and headed to the airport at 8:05am, went through all the usual checks etc and took off one hour late at 12.30pm.  The Captain said that we would still arrive on time if not early….good man I thought.
After arriving at Vegas airport we picked up our hire car and headed for Kent's place at A wind of change.  Kent I have to say is a terrific guy.  He took us on a tour around his workshop where he makes the Ivanpah Buggies and also around his shop. We loaded my buggy and kites into the car and followed Kent to the Wallmart, to pick up some provisions.  Kent had kindly offered to lead us, as I was still struggling with the car and driving on the other side of the road.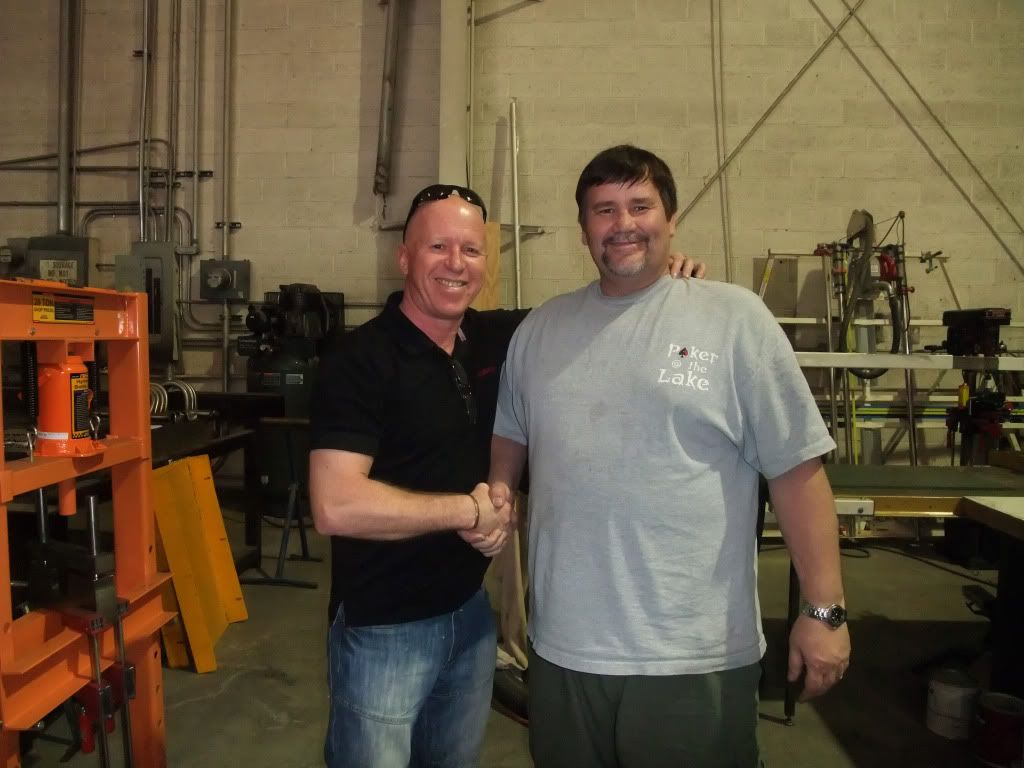 Popeye and Kent
Shopping done, nothing was between us and Buffalo Bills now, apart from a 40 minute drive of course.
We arrived at Buffalo Bills at 6.30pm, as we walked through the casino to check in, I looked around to see if there was anyone I recognized, but there wasn't. We dumped our cases in our room, and went for an evening meal, I then had another look around the Hanging Tree Bar, a place I knew the buggiers frequent, but still there was no one I recognized, so we headed back to our room, quite shattered. We had been up over 24 hours and Denise said she was shattered and just wanted to go to bed. I said to Denise, "I just want to go back and check one more time", so off I went again, this time the first person I bumped into was Kieron, sat at the bar working on a video he had shot that day.  It was sure good to see a familiar face.  We chatted a while and arranged to meet at dawn on the lake bed.  As I was about to leave, I heard "Hey Popeye", I turned around and there was Dirk aka screwyfits and his father Dwane from the US.  We chatted a while, and I made my excuses and headed back to our room, on the way, again "Hey Popeye Man"…this guy I didn't recognize,  it was Ken C from Canada, of course when people say their forum name I stand half a chance of remembering who they are, he said "come over here to meet the rest of the gang", so off I went, and met up with Gerald, Ken B, Grant aka Coolbreeze and the rest of the gang from Canada, it was really exciting for me meeting these guys as we had often chatted on PKF forum in the US, then Angus met me. He had to leave on Thursday night and I knew the chance of crossing paths was slim, so I was glad I bumped into him.  He runs Coastal Wind Sports, and has the best learning to buggy tutorials on the web, I was really pleased to see him.  Next I looked across and saw the Dutch team, so went across to say hello, Ruudje, Ozzy, Arjen, Ricardo, Maria and one or two others were there, I have spent a long time chatting to these top guys on Skype over the years, but we had never met, so again, it was a pleasure to finally meet these legends in person.  By this time another two hours had passed so again I made my excuses and headed back to my room…now extremely shattered.
D-Day Thursday 31st March  Arghhh the joys of jet lag, I woke at 1:30am and never went back to sleep.  I just laid there wondering what waited for me in a few hours time.  This was it, this was the day I had waited so long for, my dream, my long awaited dream, it was going to happen today.
I left Denise in bed and headed to the playa on my own to meet Kieron and put my buggy together, it was already very hot, and very dusty with a slight breeze. I arrived at buggy camp after the fifteen minute drive from the hotel, there were lots of RVs parked, about 80 or so buggies, and loads of kite banners along the edge of the playa.  I didn't see anyone about, it was still early remember, so I parked up at the edge of the playa and proceeded to assemble the Hero Buggy and get a few photos of it, as it was still clean and shiny sat on the playa, these were photo's I would not have to photoshop, these were genuine Ivanpah shots.
Many others started to arrive, and came over to chat with me, apparently there were quite a lot of people who had wanted to meet me which was flattering and nice. They were chatting to me as if they had known me for years, and easily recognized me from my mug shots on my web sites, for a while there, I felt like a celebrity, people wanted photos with me ha ha…."I want a photo with popeyethewelder", a few people had brought a poster I had made of all my buggies and wanted me to sign it for them which I was more than happy to do of course, it really did feel strange, but a really good feeling.  Buggiers wanting me to look at their buggies, asking for advice etc etc. Many just wanted to thank me for my web site, because it had helped them so much when they started out in this sport…I tell you, and this will seem funny, but for an hour or so that morning, I really did feel ten feet tall.
At 9.00am I went to the main tent to sign in and received a bag full of goodies from Flexi including a nice watch and NABX T-shirt. Everyone I met was just so friendly, Denise and I had been on a tour of California about three years previously, and everyone we met then was so friendly.  I love Americans for that, and this place was just like that but up another notch. Food was also on offer in this tent.  The catering team had made lovely ham and egg wraps, mixed with chilli sauce.  They were awesome, the food is free, though you are welcome to make a donation, most people just put a dollar into the kitty every time they went for food or water.
9.30am…Time to get a kite out and see what all the fuss is about riding on this flat abrasive surface.  There was still only a light wind, about 12mph, and very on and off.   I decided to get the 4.4m Cooper out, I had been warned to fly smaller kites than you would use on the beach, because the rolling resistance was much easier than riding on the beach.  I did a few runs and like WOW….this surface is fast, what surprised me most of all was when you go to scrub speed off, you know the sound a car makes when going around a corner quickly…the screeching sound, well it was just like that, kinda freaked me out to start with lol. I made a few adjustments to the kite and went out again pushing a bit harder this time, the wind here is strange…it was never constant like I am used to on the beach, it was here one moment, gone the next most of the time. I had to try to just use the gusts that came quite often and would pick up to around 20mph, but they were short lived. I managed 50mph dead and when I met up with Ozzy and the Dutch crew later in the afternoon, I was happy to hear that they had gone no faster than me, just hearing that gave me confidence.  What I was doing out there was right, and most importantly, the buggy and Cooper kites on a drag race were as quick as the big guns, with their Apexx's and Vapors. The wind dropped off for the rest of the day, but that only meant more chance to meet more people, everybody is so friendly, it was just like being with family.
1st Time out on the playa with a 4.4m Cooper
Popeye & Ozzy
Kieron by the way, after telling me we would meet at dawn, rolled up about 11:30am….I had to laugh, and I had to include that…dawn means 11:30am in Kierons world, bless him. He had worked so hard filming since getting here, plus been quite ill in hospital a month or so previously, as well as making the best prize ever to be raffled off, one of his masterpiece kites, what a hugely generous offer.
I went to collect Denise from a mornings shopping at the factory outlet shops next to the casinos, and give her her first taste of the lakebed and introduced her to some of the people I had met. Denise soon slotted in and was soon chatting away to everyone, she really clicked with Josh's partner Ce Ce, and they were quite happily chatting for the rest of the afternoon.
Ivanpah is immense, so big in fact, when a buggier is a few miles away, all you can see is his kite, the earth's natural curvature means you cannot see the pilot, it really is that huge.
At around 6:30pm dinner was served in the big tent, more lovely food and free beer too, means for another great gathering of the NABX attendees.  The food really was top notch, and the Chef certainly knows how to please everyone. Watching the sun go down over the mountains on the other side of the lakebed will stay with me for a long time.  The colours changing until it goes dark, to reveal the most unpolluted night sky you could possibly look at…millions of brightly lit stars meant a lovely late night show skywards.
After leaving the lakebed at around 9:30pm we headed back to the hotel for a quick shower and met a few die-hards around the Hanging Tree bar, where we continued drinking and laughing until the early hours.
Friday April 1st, Again I was on the Lakebed early around 7:30am.  I cannot resist getting there early.  There really is no need, I just want to make the most of every waking moment on the lake bed, wind or no wind, that's where I want to be. The only other people there this early are the ones staying in the RVs parked on the lake bed throughout the event. Today was going to be hot into the 90s almost a record for this time of the year, it was also going to be light winds, so light in fact you could barely feel any breeze on your cheek. The wind was to stay like this all day, it didn't dampen any spirits though, the Dutch team went into Vegas for the day.  That left the rest of us to sit around in buggy circles under the PL shaded areas, talking, laughing and generally having fun.  We would watch when even the very slightest  breeze would flutter the banners, Ricardo (The little Asian Guy) would helmet up, get a huge Vapor out and trundle along a few mph until the breeze dies again.  He would then sit there half an hour or so cooking under the sun until another breeze would come so he could make it back.  He would never learn, and did this at least six times during the afternoon.  We would all be laughing at him getting stuck out there, time, and time again. Now and again the breeze would last longer, and all heads would pop up from everywhere like Meercats looking at the banners to see if they were moving faster than before…I must admit, I was tempted to get out there on more than one occasion, but the guys would say "sucker winds"…meaning the wind tempted you to get out there, you get your gear on, kite up, buggy a mile or so then the wind would die leaving you stranded ha ha.. sucker wind. It gave us a lot of laughs that afternoon.
Around lunch time Beamer Bob rolled up with his son Wexler.  Bob was always going to have the Hero Buggy.  We had spent months wondering if it would fit his stature as the buggy was made for my frame, he on the other hand was over 6' 4" with long legs. He sat in the buggy, and although we could have made it fit him, I told him, straight away, I would be happier if he bought his plan B, Ozzy's Apexx buggy as I felt that buggy would suit him much better, as soon as he prized himself out of the buggy, his son Wexmeister sat in it…I commented that the buggy looked like it was made for him and he nodded, but still kept his thoughts to himself.  He plays his cards close to his chest, and weighs up all the options before declaring his final decision.  I wasn't worried at all as I already had at least two other people who wanted the Hero Buggy.
One thing that did catch my eye was Ken Shaw's quad buggy, it was ingenious.  I spent ages looking around it.  When I sat in it, Ken raised and lowered it via the air dampers, he had told me it was for going over rough terrain where he lives, he had been on the lake bed and got to 20mph and nearly scared himself to death he said lol.  His kiting skills were still very limited, but I can assure you his engineering skills were top notch.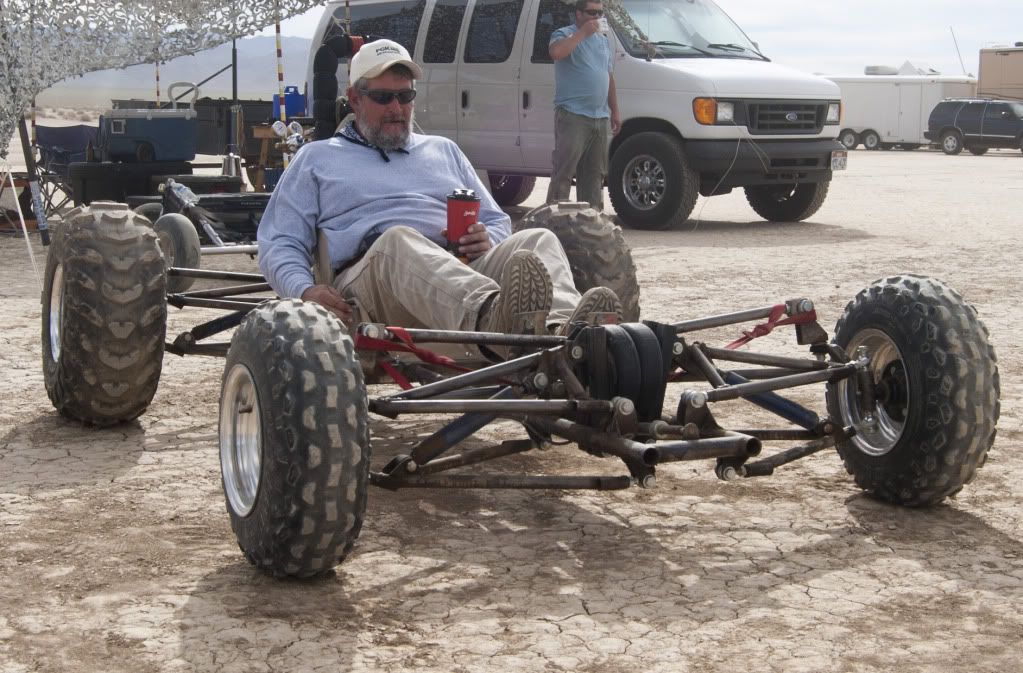 Ken Shaw with his Ingenious Quad Buggy called the Chuckawalla Rock-It
The Dutch team arrived back at 5.30pm and as if by magic the wind turned on and stayed on.  Unbelievable.  We had sat there all day and as soon as the Dutch Team arrives the wind comes.  Within minutes there were 40-50 blokarters and buggiers on the lake bed.  Wexmeister had asked if he could take my buggy out, I was more than happy to let him, at 16 years old, I loved his enthusiasm.  That left me without a buggy.  Grant aka Coolbreeze said I could take his Apexx out, I had looked at all the buggies around Buggy Camp, and his was my favorite, he had added his own little extras to it, including some lovely 90s Susuki  mag wheels, so when he offered me the chance to ride it, I didn't think twice. I unfolded my 6.9m Cooper, and went out, this buggy felt great apart from the side rails were too far apart for my liking, which was a surprise as Grant is very lean.  Down wind was great and I felt I was really kicking up some dust, I felt like I was going much quicker than the day before. Upwind, with the 6.6m I was struggling to keep in the buggy and had to hold on with my upwind arm and fly one handed, After many more runs and about 1 1/2hrs I headed back to buggy camp as the sun was settling behind the mountains, I asked Grant to check his GPS, saying I think it will be in the late 40s, but really thinking it would be in the 50s, as it really did feel faster than the day before. To say I was gobsmacked when Grant read the GPS top speed was an understatement…..he said 39mph…"what, you must be joking"…I had to check myself and could not believe what I was seeing, I had gone 11mph slower than the day before in a smaller buggy with smaller wheels. We had waited 10hours for the wind today, and when it did come 10hours later, everyone was happy.
Popeye riding Coolbreeze's Apexx with the 6.9m Cooper
Well, at least we buggied today, and I still had a great day, wind or no wind, as I packed the kite away the Flexi Team were putting the finishing touches to the big tent, it was a Flexi Party night, plenty of lovely food and drink for everyone and many laughs and stories were told that night.
In the tent, I was watching Kieron working, video editing footage he had shot earlier, he had already produce two quality videos of the Flexi Guys, including Craig Sparks remarkable 62.8mph run on Harper lakebed at the pre event. The mans brilliant, not only is he a genius at making kites, he is also an excellent videographer too.
As the evening ends, I am shattered, but word is spreading around camp there are 25mph winds forecast tomorrow, bring it on.
After we leave the party, we head for the Hanging Tree Bar, this is where all who want to carry on drinking and partying head too. A great international crowd gathered, English, Dutch, Canadian, American and one Australian Glen aka nocando, now if anyone needs someone to keep a party going "nocando" is your man, he is a nonstop party animal, and jokes and innuendos continue to flow out of his mouth night and day, he was my cup of tea and we were crying with laughter into the early hours. The banter around the bar that night was brilliant and we were all pretty hammered by the time we headed for bed at 3.00am.
Just before we left, Mark, Kierons friend and professional photographer and Maria aka KiteMomma, said we should make a spoof video.  I am always one for making people laugh if I can and always carry a selection of masks with me when I go on trips….but the mask they wanted me to use was my Bin Laden mask…dare I, on American soil…dare I, well at that time of the night I was easily talked into it, Mark would spend the rest of the night writing a script and Maria and I would meet him at the reception at 6.30am…OMG, what have I let myself in for. I had already been warned by fellow Brits not to take the Bin Laden mask.
Saturday 2nd April My alarm clock came much too soon at 6.15am, Denise was not happy lol saying they won't be there at this time….they were, they were both there waiting for me, we grabbed a coffee and headed out onto the lake bed and past buggy camp picking my buggy up on the way.  Mark had stayed awake all night writing the script and Maria and I had a quick run through it.  She had also brought a sheet and Mark had brought his combat jacket, I was to look like Bin Laden when he makes his press releases….well we went through the script and took three takes to shoot the short film.  I won't go into details but we laughed so much filming it, especially the bloopers at the end, it was worth getting up so early for.  Mark set to work on the film editing, spending all day, and hopefully get it shown that evening in the Big Tent.
By 9.00 am we had finished and the wind was still light, most of the buggiers were now on the playa, waiting for the winds we were promised. At 9.30am, BANG the wind picked up instantly from nowhere, dust storms were coming across the playa like black clouds, everyone scrambled to get their smallest kites out, this was what we had waited for….the wind, I guessed the wind to be 25mph, but was told by someone with a wind meter the wind was actually about 18mph, its much harder to gauge here than being on the beach, on the beach when the sand starts shifting along the top of the beach you can safety say its 25mph, but here was different.  Also distances….across the playa you can see the road, with traffic on, it looks about 300m away, but in reality its two miles.
I put the 2.1m up and went for a few runs, I felt under powered so changed kites to the 2.6m and went for more runs, I didn't reset my GPS, it still had the 50mph on it from Thursday, all I was interested in was seeing the 50mph turn into 60mph or more, I spent the next 2-3 hours trying to get the perfect run and catch the gusts at the perfect time, I just could not get above 50mph no matter which line I took.  I was feeling a little frustrated, I was beginning to think 100km/h or 63mph was not going to happen, then the wind started subsiding, and when that happened I knew my chances of getting a PB which is 57.40mph was not going to happen, not unless the wind picks up again.  But to be honest, it doesn't look like that will happen, but you never know. Getting into the Exclusive 100km/h Club was going to be much harder than I thought.
Around 11:00am Grant, Ken C  and the other Canadians, suggested we do the famous "Out and Back" run.  You are given coordinates,  head to that place, receive more directions until you get to your destination.  This can be some 25km away and take anything from 2-6 hours, sometimes longer depending on the wind, and changes every year.  So we all packed a few kites and plenty of water into our buggy bags and headed off.  Again the temperature was into the 90s, it reminded me of a group of Cowboys heading out into the wild frontier, only this time instead of horses we were on buggies.  We decided not to spread out more than a few hundred meters as you can easily get lost out there in the scrub land.  There were six of us and we soon caught up with a guy called Freeman.  A nice guy but you could tell his skills were limited.  He wanted to tag along with us which was ok. Once we got into the scrubland, Freemans kite went down, so we all stopped,  One of those dreaded kite eating bushes (Bushes with 1" long thorns) had snared his kite.  Ken C went out to help him retrieve it, he was ready to re launch again and was sent racing across the ground until he fell over, banging his head…he just laid there a while, we were all calling him, but there was no response…we all rushed over and realized he was unconscious. After a few minutes he came around, we insisted he turn around and head back, but Freeman was having none of that, he wanted to carry on, he had already been under too hot sun well over two hours and had no GPS, water, sun cream or spare kites with him.  One of the guys gave him some water and it was nearly gone in an instant. The wind had dropped again so we put some bigger kites up, you would just get them in the air, then the "sucker Winds" would pull the plug, and your kite would drift straight into a "Kite Eating Bush" … the buggers (they love to destroy Kites), as we headed further and further out, Freeman was struggling even more so Ken B and I suggested we head back and take Freeman with us, the others carried on to the first check point while the three of us headed back to Buggy Camp.  The trip back was good, and we were soon hurtling along over 40mph through the scrub land until we reach the playa, where we upped the speed again and before we knew it, Buggy Camp is on the horizon, we got back around 2.00pm. I went to pick Denise up from the Hotel when we got back to Buggy Camp.  The other guys from the Out and Back trip had returned and had retrieved the second set of coordinates but headed back as the wind was dying.
Some out my "Out & Back" Gang
During the afternoon, the wind changes from nothing to 15mph, it is very frustrating when you are used to beach wind.  Kent came over in his land Sailor and asked Denise if she would like to go for a ride.  She was having none of it and politely refused, but the guys were having none of that and picked her up in her chair and carried her to Kent's Yacht.  Once in she seemed ok.  I went out on my buggy and was cruising side by side with her at around 40mph.  When she got back she had a big grin on her face and said she really enjoyed that and could not believe how fast it felt, Kent had even let her control the sheeting, she loved it, (falls over in disbelief)
I spent the last few hours of sunlight on the playa.  Ozzy and Ricardo were out too, and we were all blasting up and down the playa together.  I had to laugh, Ricardo kept trying to pass me, and I wouldn't let him, swerving one way then the other to stop him over taking me with his much bigger kite. It was great riding with these guys and I doubt I will ever forget that.  I was pleasantly surprised at how well the Cooper's held up against the big guns, or were they just messing with me lol.  I don't care, pounds per performance, I guess the Coopers take some beating, considering the Vapor must cost three times more.  Superb kites that they are though, no one can deny that.  Peter Lynn is on top of his game regarding race kites for sure.
It was at this stage, riding the playa in the Hero Buggy, it hit me….you know what I mean….that feeling AoxomoxoA…let me explain…
I quote……AoxomoxoA
If you fly stunt kites to win competitions, you won't understand, but if you fly to give pleasure and entertain the audience, you might find AoxomoxoA

If tangled lines are an irritating frustration, you won't understand, but if you find untangling relaxing and theraputic, you might find AoxomoxoA

If you buy rare and expensive kites and hang them on the wall, you won't understand, but if risk hand-painted washi-paper kites in the elements, you might find AoxomoxoA

If you're struggling to be the fastest buggier in the country, you won't understand, but if you dream of buggying across dry lakes in the gentle zephers at 2am, you might find AoxomoxoA

If you build your own kites to save money, you won't understand, but if you sew to try new ideas, you might find AoxomoxoA

If you wouldn't lend your kite to a stranger, you wouldn't understand, but if you're ready to loose or destroy anything you fly, you might find AoxomoxoA

If you enjoy buzzing noisy stunters on the beach, you wouldn't understand, but if you've found the pleasure of a simple, reliable single-line delta, you might find AoxomoxoA

AoxomoxoA

Andrew
I was feeling AoxomoxoA, I had gone there to hit 100kmh, I had gone there to do 200 miles in one session, but do you know what?  Riding there with Ozzy on one side, Ricardo on the other, the sun setting behind the mountains closing my NABX trip of a life time, none of that mattered one little bit. And I am not just saying that, it really didn't.  I was in such a tranquil, peaceful place right there right then, at that moment…. I had found AoxomoxoA.
This year was not for records, it can't be the same every year can it?  The best winds had been at the pre event where Stephan had clocked 107kmh.
Later as the sun went down, Beamer Bob said he would like to have the Hero Buggy for his son Wexler, I was so happy for Wexmeister, I gave him my RuRoC helmet to go with the buggy.  He had loved riding that buggy. Bob went on to buy Ozzy'z Apexx, which was definitely  the right decision.
Saturday Night, Dutch Night & Raffle. I would guess 1000s of tickets had been sold, they all wanted Kieron's fabulous Kite, but there were also 30-40 other prizes too, including kites, a buggy and a lovely didgeridoo. After watching the best of the Dutch videos, the raffle started and must have lasted over 2 hours. When Corey called the number for the last winning ticket for the Kite, this young American shouted "That'll be mine", he then got onto the microphone and said he needed $300 for medical bills, so he would auction the kite off, take $300 for his expenses and the rest would be donated to Dean Jordan's Medical expenses. What a nice selfless gesture. I must admit, I was quite surprised the bidding started off slowly, Corey was doing his best to get people to bid more, gradually it crept up $400-$500…it was slow, but it still kept moving, going up in $10 increments, $700-$800, eventually Dino aka Dakitez stepped in with a winning bid $1000, at least it hit four figures but should have gone for so much more, but I am guessing just having that kite in the raffle in the first place raised 90% of the proceeds. So well done Kieron. He spends 100s of hours on each kite, you would need a mortgage if you were to pay for his time alone, but Kieron was more than happy just to be there and help to raise funds.
The NABX attendees. On the day I arrived on the lake bed I was informed one of the main organizers Dean Jordan had been taken to hospital with a heart complaint and would miss the entire event, by the end of the event it was confirmed he was ok, and even made an address to everyone via a phone over the PA system at the beginning of the raffle.  It was great to hear his voice. I had been really looking forward to meeting him. He went on to thank everyone for attending, thanked Kieron for his remarkable kite that he had donated to raise funds for NABX, the Flexi boys who had done so much work to make this event better every year, and went onto to thank each and every one of the behind the scenes people who all put so much work into the event, and last but not least, he thanked the catering team who provided every one with superb food throughout.
Corey, the Mayor of Buggy Town, I met this larger than life character on the Friday night, I remember seeing him in a YouTube video years ago, explaining the PL Race kite buggy, it was great to meet this wordsmith, we spent about 30 minutes chatting about the playa and buggies, how things have changed etc, like only a few years ago, the only buggies you would see on the Playa would be Libre and PL buggies, now there is a whole host of buggies and many home brews.
The Dutch Team. I had never met any of these larger than life buggiers before, and I say that as they are all giants, big men, who like to work and play hard. I regularly chat with Ozzy and Ruudje on Skype, and when we met, there was mutual admiration and respect for each other's work.  I had already had a good look around Adrian Levelles Apexx at Life's a Beach in 2010, but it was good to see all the other extras you can add to these buggies. I think I sat in most of the Apexx's and found I fit in Ricardo's the best.  As I said the Dutch are huge guys and Riccardo is more my size. Without doubt, if I were to buy a buggy, it would be an Apexx, with maybe a wider axle 1600 instead of the usual 1400. Riccardo and Maria, (very much part of the Dutch camp, but are from Canada) A great couple who work hard at this event, Maria is constantly seen working in the catering tent, and Ricardo (the little Asian guy) is out trying to sell Apexx's at every given opportunity, away from the playa, they are all party animals who love to drink and have fun. I would guess that Ricardo would have spent the more time on the playa than anyone, even with the slightest little breeze, his kite would be up, and off he would go….many times getting stranded by the sucker winds. I got stranded one time miles from buggy camp, and just sitting there in 90 degree heat takes its toll I can tell you.
The Canadians, I spent most of my time on the playa with these guys from Vancouver, very friendly and helpful, full of passion for this sport, Grant aka Coolbreeze in particular, has many good ideas, and is always thinking of ways to improve his already great buggy. He had the nicest looking buggy there as far as I was concerned, another Apexx, but he had added his own style to the buggy and also added some lovely mag wheels with a lovely front fender, it fitted perfectly, I just loved the look of it.
The Americans. Well, obviously too many to mention individually but I would like to thank Kent of course who helps most of the international buggiers with storing equipment prior to the event. Josh and Ce Ce, who became firm friends with both Denise and I while we were there. Beamer Bob, who over Skype must have answered 1000s of my questions about NABX, a truly decent human being and full of enthusiasm, this guy would do absolutely anything if it meant helping someone without a blink of an eye. Wexler Muse, at 16 years old is so full of passion for this sport, he looked so at home in the Hero buggy and to see his eyes light up when I gave him my helmet was worth everything.
Of course there were many other Americans, and I could go on forever writing about each one, but I have to say the whole of Buggy Camp, as they call it, was brilliant with over 160 registered people, plus wives girlfriends and children and late arrivals the total must have been more like 250-300 people.
After the raffle, most people headed back to their RVs and Hotels. This was the end of my dream, I was shattered. No, I didn't achieve my objectives, but do you know, in the end it didn't matter one little bit. I thought I would be disappointed but no, I am extremely happy, happy that I made it here, happy I made so many new friends, happy knowing that NABX is bigger and better than I could have ever imagined, happy in the knowledge that AoxomoxoA was received with an inner calmness and contentment on that playa on that Saturday evening.
I lived my dream.